Double your sales with social selling for Microsoft Partners
So, you have got your cloud solution ready and even may have your solution in the Microsoft One Commercial Partner (OCP) Catalog. But then? Will you rely on Microsoft sellers to sell your solution to customers? Or do you want to double up yourself?
When you empower your employees with social selling skills and provide them with the right content to share, you just might increase your sales with double digits. Be prepared.
Content
It all starts with great valuable content. We know it is hard to produce, so solicit experts to help you with that. This content needs to reach your potential customers. Based on experience in large parts of the world, just sending out e-mails will do you no good. Most of your target customers receive hundreds of those e-mails a day and in most cases they end up unopened in the trash bin.
Social works
Social Selling is actually nothing more than advocate your solutions, around themes that resonate with your target audience, through social media. Let's take LinkedIn as an example. When you empower your employees with the valuable content and make it easy for them to share with their peers, you have an incredible reach. Moreover, when you use LinkedIn Premium and LinkedIn Sales Navigator you are able to reach out to all the people interested in the content and can build campaigns around that. We have seen incredible increase in lead generation through social media channels, in particular LinkedIn. Just as an example, see the figure of the LinkedIn results of our CEO Peter van Uden during the first two days of Microsoft Inspire in Las Vegas 2018. Sharing valuable Software Asset Management content and reaching an increased reach of 355%. You do want that also.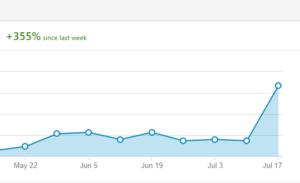 Good to know, since LinkedIn was bought by Microsoft a while ago, there are great integrations with Microsoft Dynamics 365 and many discounts for Microsoft partners available.
Follow up
Don't forget to follow up all those leads within the modern buying cycle of the modern customer. Do not shoot sales offers, but follow up with even more valuable content to lead them into the next stage: a trial or even proof of concept. With cloud solutions, this does not have to take much effort and time. Using social selling and modern sales follow up you can convert a lead into a customer in weeks, or even days.
Strategy
OK, admitted, it all sounds easy, but you do need a proper strategy. Think before you act. How to make this valuable content around themes that are of interest to your target audience? Implement an adoption program for your employees so they actually will use the social selling. Make sure you have resources to follow up leads. Use an expert with knowledge of the Microsoft stack of solutions, experienced in social selling and knowing your target audience. Welcome to Quexcel, we are here to help Microsoft partners thrive.