Save on cloud with Managed Software Asset Management – new Office 365 integration
We continuously invest in the Quexcel Managed Software Asset Management (SAM) Service. Innovation enhances our quality and service and you as the customer benefits form better consultancy and insights. Now we offer better Office 365 integration so you can save on cloud costs and optimize cloud usage.
Read time: 3 minutes
Managed Software Asset Management
Software Asset Management is no longer just about compliance or just managing your assets. With more and more cloud usage, SAM is also there to help you with cost optimization of your cloud subscriptions, as an example. And this can be done when SAM processes are implemented and data from your IT and cloud environment is collected. So do we with our Quexcel Managed SAM Service.
New Microsoft 365 integration
In November 2020 we launched a new integration with the Microsoft 365 Admin center. We can now pull more and specific subscription and usage data. Data we compare with data our solution already collects, like 'last seen in Active Directory', which software is used by whom and how long, Mobile App activations and much more. Combining these data sources and subsequently release artificial intelligence to it, gives new cloud usage insights.
Unused subscriptions
Let us just take one simple example which occurs a lot. When you ask people if they need Microsoft Visio to do their job, the answer is most likely 'Yes I do'. But more than once data shows they actually don't. By measuring which software is used on what computer or in what browser and who is using the computer, you have got the proof. Sometimes people can do with a simple Visio viewer (data shows that the only use Visio rarely and short amounts of time). Sometimes people can do without.
Within SAM this kind of data is crucial. New is that we can now combine all the data not only for traditional perpetual software, but for Microsoft 365 / Office 365 as well.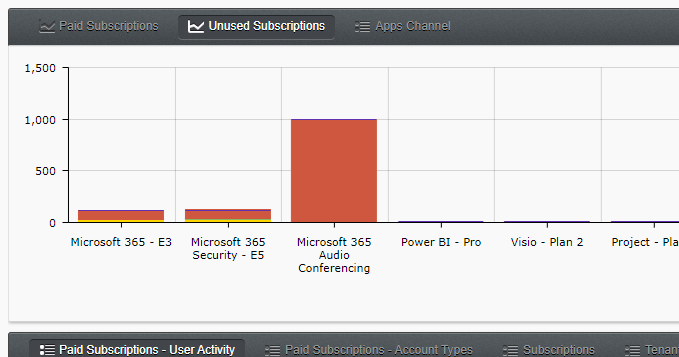 Valuable information
The new available information is valuable for your organization. Not only are you able to save on cloud subscriptions, it also gives you the opportunity to better align types of subscriptions to the various technology requirements for various types of employees, contractors, software developers and so on. This is what we provide (amongst other information):
Office desktop users that don't require an Office desktop client
Office mobile users that don't require Office mobile access
Office users that don't require Exchange, OneNote, Teams, et cetera
Cloud Subscriptions allocated to:

Inactive and/or disabled accounts
Test, Service and contractor accounts

Unallocated cloud subscriptions
Cloud subscription duplicates
Unused Visio and Project entitlements

Start today
Do you want better insights on your cloud consumption or do you want to save on cloud subscription costs? The Quexcel Managed SAM Service can help you just do that (and tons of other things off course). You can find more information on our Software Asset Management page of contact us for full online demo or trial subscription.
Good to know, next in line for innovation and optimization is integration of Microsoft Azure cost optimization into our Quexcel Managed SAM Service, expected live early 2021.