Office 365 name changes
It is for the fact that Microsoft announced the Office 365 name changes the day before April 1st, otherwise nobody would have believed it. Simply because Microsoft is renaming some of it's Office 365 products to Microsoft 365, but not adding any new features or updates. At the same time they are holding on to the Office 365 name for some other Office 365 products, adding personal Microsoft 365 subscriptions and more. Something with a forest en trees. We took a deep dive and present you – to the best of our abilities – some clarification.
Read time: 8 minutes
What's in a name?
We are used to some certainties in life. Like a cheese sandwich contains cheese, it always rains in Seattle, Office 365 is a cloud productivity subscription and Microsoft 365 is just Office 365 with extra's like Windows and Enterprise Mobility + Security. Well, the certainties in life are no longer here. Order a cheese sandwich and ask for the questions of the waiter …. I (the author: Peter van Uden) know out of experience that it doesn't 'always' rain in Seattle, and …. Microsoft 365 is no longer Office 365 with extra's. So let's forget what's in the name and have a look on how the future looks like.
New for individuals and families
First rebrand is in the personal and family space. Office 365 Personal will be renamed to Microsoft 365 Personal and Office 365 Home will be renamed to Microsoft 365 Family. The changes take into effect April 21st. Microsoft has added some nice new features for personal use, but nothing shocking and no price change in the retail channel. Since we focus on business use, we'll leave it to this and kindly point you to the Microsoft website for more information.
New Microsoft 365 for SMBs
Microsoft offers some specific cloud services for small and midsized businesses with a maximum of 300 seats per subscription. Starting April 21st 2020 Microsoft will rename these subscriptions without changing features or services:
Office 365 Business Essentials – mail and collaboration in the cloud, Office Apps online – will become Microsoft 365 Business Basic.
Office 365 Business – the Office Apps for installation on up to 5 PC's or laptops – will become Microsoft 365 Apps for Business.
Office 365 Business Premium – in fact the combination of the above two – will become Microsoft 365 Business Standard.
Microsoft 365 Business – all of the above and Windows Business for the desktop, security and management capabilities – will become Microsoft 365 Business Premium.
Again, the fact that the subscription has 'Microsoft 365' in it's name does NOT mean that it contains Windows Business / Enterprise and (parts of) Enterprise Mobility + Security.
Renaming Office 365 ProPlus
Office 365 ProPlus is a subscription in the Enterprise range of products and it is the only subscription which will change it's name on April 21st to Microsoft 365 Apps for Enterprise. The fact that it has 'Apps' in the name should give the audience a hint that it is only Office Applications for local installation, but the confusion is all around, we understand.
Organizations using the Office Deployment Tool or System Center Configuration Manager for deploying the Office Apps should be aware of some important changes at the technical side of things. All you need to know is over here.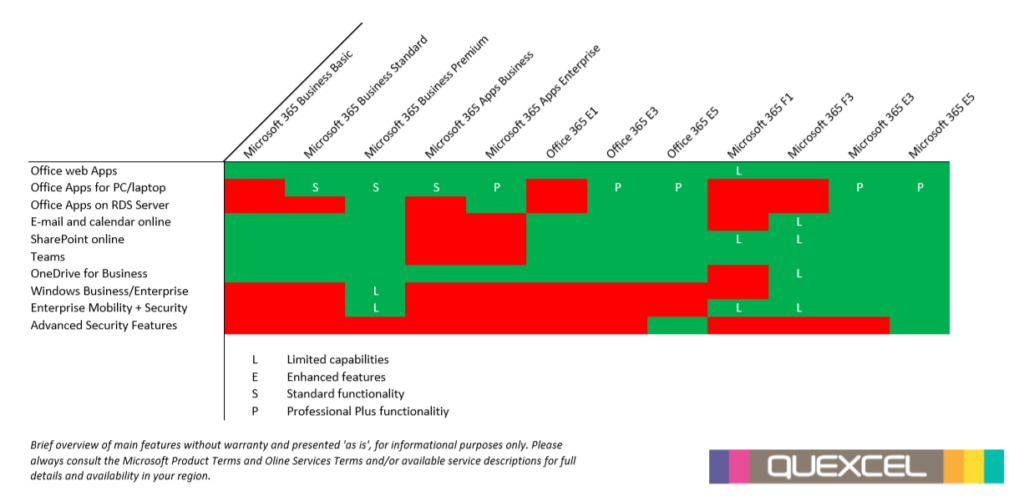 Office 365 Enterprise
For now, all of the Office 365 Enterprise Plans (like E1, E3, E5, and corresponding 'A' for Academic and 'G' for Government) stay as they are. The same counts for Microsoft 365 Enterprise plans, who in contradiction to the new SMB 'Microsoft 365' plans do contain Windows Enterprise and Enterprise Mobility + Security features.
F3 tot F1
Firstline workers are employees in an organization who do not have or use a personal computer for their daily work. Think about caretakers, construction or production workers and so on. People in the frontline of the business so to speak. Because those employees need some digital interaction once in a while Microsoft introduced the 'F' subscriptions a while ago. Now they are changing things over here too.
The existing Microsoft 365 F1 is renamed to Microsoft 365 F3 per April 1st 2020 (no joke) but no feature change. Also introducing a new Microsoft 365 F1, which is basically the F3 but without Windows 10 or virtual desktop rights, without OneDrive for Business and without Exchange e-mail. In fact, you can see it as Teams with some management and security features. All relevant information over here.
What's next?
We like to think that these renames are a frontrunner of bigger changes to come. Keep in mind that Microsoft 365 Apps for Enterprise (former Office 365 ProPlus) will receive a 'per device' license soon. All in all, the future changes could be the end of classic Office perpetual licensing and in relation to that the end of perpetual licensing contracts like the Enterprise Agreement and Open / Open Value program.
Assistance
Is all the name changing still a bit confusing? Do you need assistance figuring out what is the best subscription for you? Of do you want your subscriptions accompanied with the best possible knowledge? We are here to help, please do contact us.