Microsoft Power BI Premium per user soon available
Microsoft Power BI is a powerful tool which gives business analysts as well as departmental data-consumers the ability to do more with data. From data-analyzing to building dashboards and reports. For complex data tasks, like cognitive services or big data row consumptions, Microsoft offers the Power BI Premium services. Unfortunately only in a capacity plan starting US$ 5,000 a month, which is OK for big enterprises with thousands of users, but quite expensive for SMBs. That will change. Starting April 2, 2021 Power BI Premium will be available as a Per User subscription license.
Read time: 1 minute
Entry level pricing
Power BI Premium Per User (PPU) has been in public preview for three months and will become general available in April. The price will be US$ 20 per user per month. For customer who already have a Power BI Pro license, either purchased as a standalone plan or through Microsoft 365 E5, there is an ad-on subscription available for just US$ 10 per user per month.
The Power BI Premium per user subscription contains all of the Power BI Pro features, so customers do not have to license for both.
Not entirely the same
Though Power BI Premium per user seems a licensing alternative for the capacity plan, that isn't entirely true. There are feature differences between Power BI Premium per user and Power BI Premium capacity plan, as the below picture shows: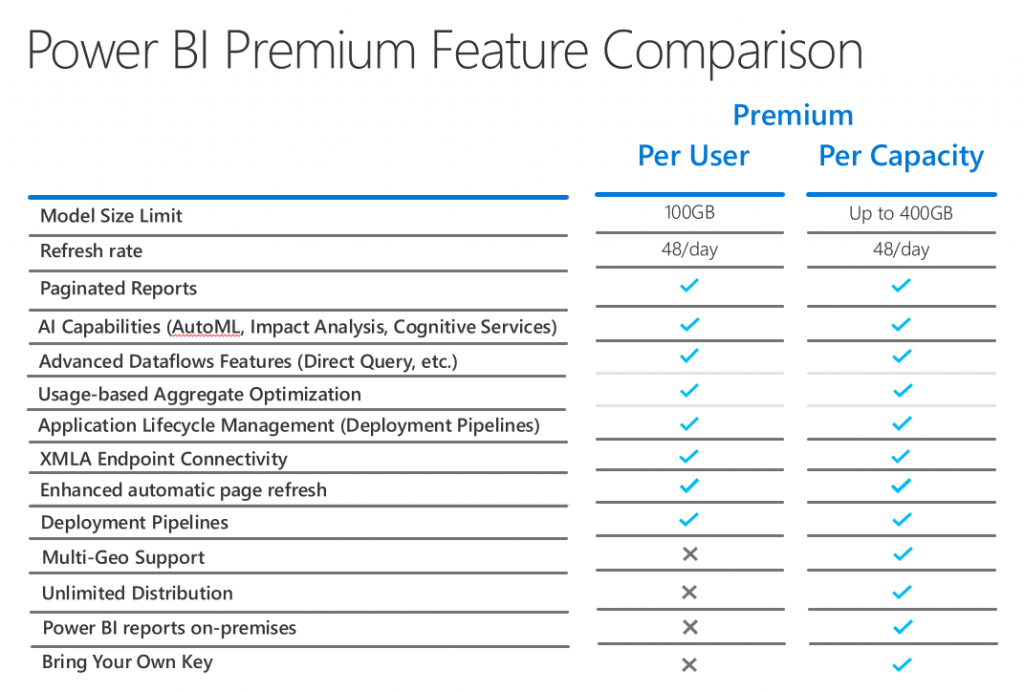 More about Power BI features at the Power BI website.
Microsoft Power BI licensing
Might you want to learn more about Microsoft's Power Platform licensing (including Power BI, Power Apps and Power Automate), please download the Power Platform licensing guide here, or contact one of our licensing experts to help you.