Microsoft announces Teams Premium
October 18th, 2022
During the 2022 edition of Ignite Microsoft announced a new member to their Teams family: Microsoft Teams Premium. The features of this new member will become available as public preview starting December 2022 and general availability is expected for February 2023. The estimated retail price today is US$10 per user per month. Teams Premium is an add-on with additional (i.e. Premium) features which are not available in other plans. Here is an overview of the Teams family: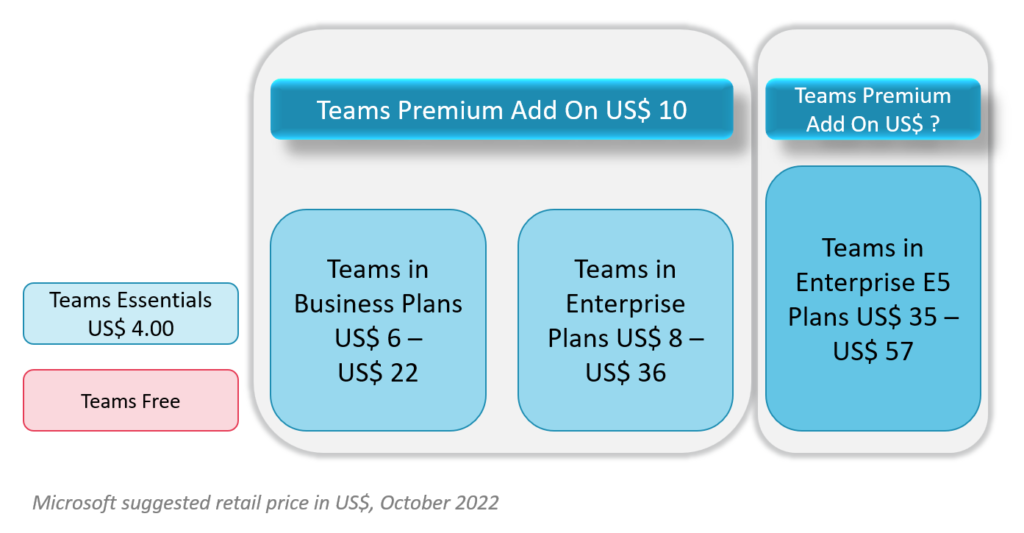 A bit of explanation to the graph. Teams is available as a free of charge subscription with basic capabilities. When organizations want a bit more functionality, such as 10GB of cloud storage per uses and anytime support, they can subscribe to Teams Essentials for US$ 4 per user per month.
Teams functionality is included in the Office 365 and Microsoft 365 subscriptions. It offers more features than the Teams Essentials, such as meetings with up to 300 participants, meeting recordings and transcripts. E5 plans of Office 365 and Microsoft 365 offer today's top features, with (amongst other things) Teams Phone for calling functionality.
The new Teams Premium has been designed to better facilitate the modern work experience, where people are likely to stay in hybrid work mode and will not return to offices full time. New features are centralized in three areas:
More personalized
Secure digital work environment
Using intelligent solutions
For detailed information on the new features, visit the Microsoft Teams Premium website.
When we compare current features in the Microsoft 365 and Office 365 plans with the new Teams Premium, we discover new SMS notification for virtual appointments, custom (branded) waiting room experience, 2-way lobby chat and analytics capabilities. For a full comparison visit the Microsoft tech-community blog.
When you want to learn more about Microsoft Teams and Teams licensing, please contact one of our consultants or book a Microsoft Licensing Training with our sister-company Didactive Education.