Easy deployment with Windows Autopilot
Windows Autopilot is a Microsoft cloud based deployment and management service for Windows 10 devices. It can be used for set up and pre-configuration for new devices, getting them ready for productive use while saving deployment time for IT departments. In this article we explain how Windows Autopilot works and which licenses and subscriptions you need.
Simplify management
Windows Autopilot is designed to simplify all parts of the lifecycle of Windows devices, for both IT and end users. From the initial deployment through the eventual end of life of the devices. Leveraging cloud-based services, it can reduce the overall costs for deploying, managing and retiring devices by reducing the amount of time that IT needs to spend on the process. The following diagram explains: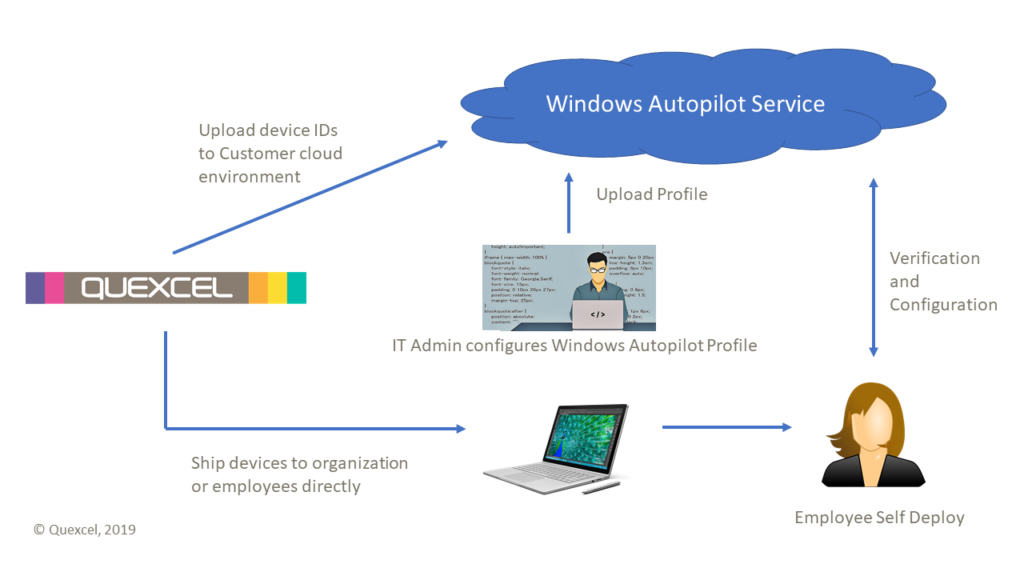 Deployment
Customer need a Windows Autopilot authorized partner, such as Quexcel. The partner ships the Windows 10 devices to the customer or directly to the end-user. The partner also sets up and uploads the Windows Autopilot file to the customer's Windows Autopilot Service. This file contains the hardware hash of the device and is necessary for device recognition.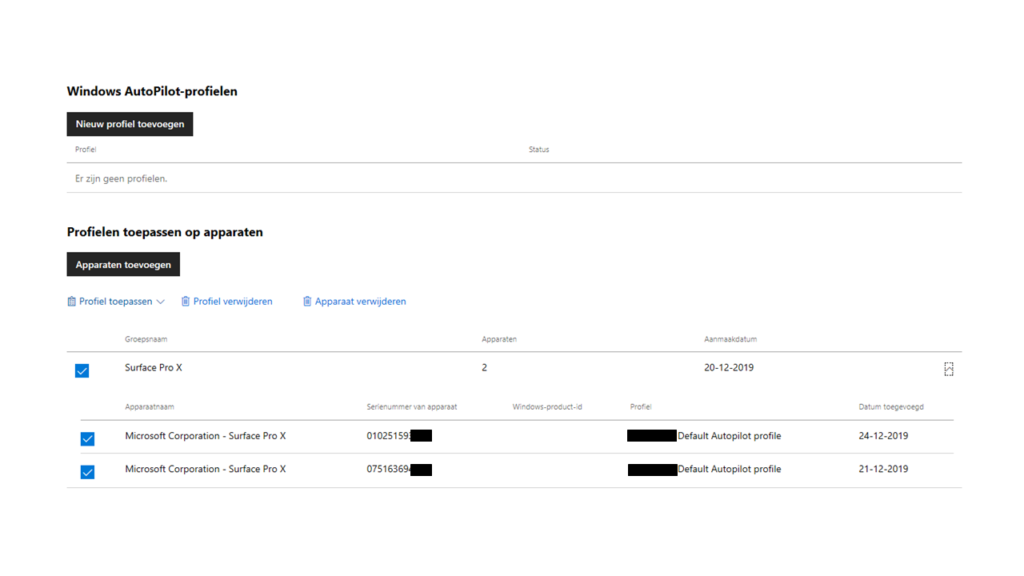 The IT department of the customer will setup profiles (the device configuration) with policies, cloud services to be installed, settings and even change of the Windows 10 edition to be used (e.g. from Professional to Enterprise) and uploads them to the Windows Autopilot Service. The only thing the end-user needs to do is unpack the device, connect it to the internet and the device self-configuration is ready to go.
Management
Once deployed, Windows 10 devices can be managed by tools such as Microsoft Intune, Windows Update for Business, System Center Configuration Manager, and other similar tools. Windows Autopilot can also be used to re-purpose a device by leveraging Windows Autopilot Reset to quickly prepare a device for a new user, or in break/fix scenarios to enable a device to quickly be brought back to a business-ready state.
Windows Autopilot licensing
Microsoft Windows Autopilot is a service, but not available as a stand-alone subscription. It is part of Windows Intune and customers also need a subscription to Azure AD Premium. Besides, customer will need a device with an OEM Windows 10 version 1703 (semi-annual channel) or higher.
Customer will need one of the following subscriptions to be able to use Windows Autopilot:
Microsoft 365 Business
Microsoft 365 F1
Microsoft 365 E3 or E5
Microsoft 365 A1, A3 of A5 (Academic)
Enterprise Mobility + Security E3 or E5
Azure Active Directory Premium P1 or P2 with Microsoft Intune or Intune for Education Subscriptions
Getting started
Do you want an easy deployment of your businesses Windows 10 Devices? Contact one of the Quexcel consultants to tell you more or get started today with the Quexcel Windows Autopilot Services for your business.
Quexcel is a Microsoft Gold competency partner Windows and Devices, Authorized Microsoft Surface reseller and authorized Microsoft Windows Autopilot partner.